Talent management is probably the most important and strategic function within Human Resources today. Organizations are constantly creating, devising, idealizing, implementing, rolling out, tweaking and changing business strategy with the sole purpose of being successful. The critical component of successful strategy is people — a.k.a. YOUR employees. Without employees all you have is a piece of paper with a bunch of words on it, which basically means absolutely nothing.
Enter Talent Management
If you go to Google.com and enter the term "talent management" what will you find? Well, I just did it moments ago and got 134 million results, which took 0.44 seconds to generate. If you don't believe me then have click here. If you attempt to sift through the millions of definitions you will likely go crazy, so I will attempt to solve this problem for you.
What Is Talent Management?
All employees automatically participate in what is called the "employee experience lifecycle" (see image below). How quickly any given employee transitions through the lifecycle differs based on many factors such as employee skill-set, level of engagement, level of performance, etc… the main goal of organizations is to keep employee engagement levels high throughout each phase of the lifecycle. What typically happens is engagement is at its highest peak during the "attract" phase, which is essentially the recruitment phase. The employee is not an employee yet, and is simply a candidate. S/he and the organization are basically dating trying to figure out if entering a "marriage" (a.k.a. employment relationship) will make sense. Talent Management is "how" organizations maintain high engagement. It's a set of values, processes, programs and systems that enable a highly engaged working relationship between employee and employer to take place.

What's the Point Here?
I am an #HR & #Recruitment #Technology geek, and I have been extremely fortunate to have worked with, and connected with so many fantastic software companies during the course of my career. One of the leading tech companies in the talent management space is PeopleFluent, who truly provide a comprehensive and integrated suite of software to support talent management.
I recently learned that they are launching their new PeopleFluent Mirror Suite™ (#PFMirror) starting the week of April 28th through a series of keynote presentations delivered by many senior level executives of major organizations in North America.
I love great HR/Recruitment software, and in particular great software. I strongly encourage you all to have a look at the upcoming complimentary presentations next week, sign-up for a couple and learn about what PeopleFluent offers. Simply click on the promotional image below.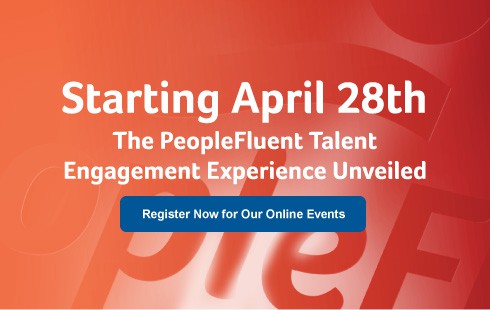 For more information about PeopleFluent feel free to check them out on Facebook, Twitter, LinkedIn and their corporate blog.