The gap that exists between emerging HR & Recruitment software and the buyer community is getting smaller and smaller with each passing day. I wouldn't say the gap shrinkage is happening at a rapid rate—I would relate it to the pace of a snail but, I have seen a noticeable difference. In light of the fact that a significant portion of the HR community has not yet reached the point where they can successfully adopt and integrate new technologies into HR and Recruitment practices I am encouraged by where the industry as a whole is trending.
Deep Breath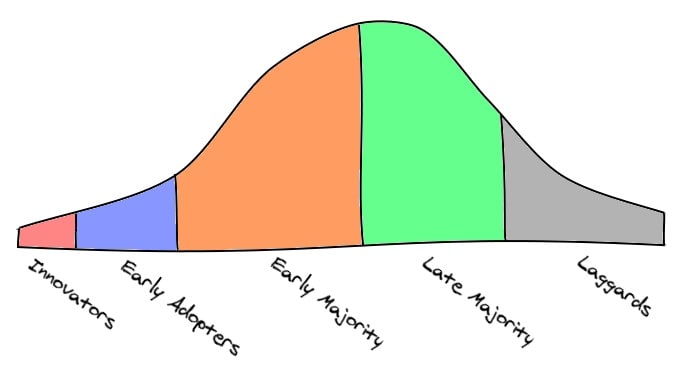 One of the biggest reasons why I do what I do in my career is because I want to put a dent in this so called gap I talk about, and make a difference. In an era where organizations are pushed to do more with less, the explosion of cloud-based technology and its impact on the HR world has been extraordinary. Further, the value these solutions can offer businesses is infinite. However, if the industry itself, and the practitioners who work in it are not adopting then what's the point? But they are adopting and this brings a smile to my face.
Taking a Trip Down Memory Lane
I came back to Twitter 5 years ago after a hiatus from the early days when the only ones that were active on the platform that I paid any attention to was Steve Nash and Shaquille O'Neal. I owe it to Twitter, and LinkedIn—these two fantastic tools have helped steer me down my interesting career path. These platforms allowed me to connect with people from across the globe, specifically the United States, U.K., India, Singapore, Australia, Israel, and of course, Canada. As I jumped onto more social media platforms like Facebook, Google Plus, Instagram and many others I started figuring out how social media could help HR.
So in 2012 I founded SocialHRCamp, an interactive learning platform for the HR Community. It was a great way for me to make a bigger dent, and to give back to the HR Community. I also started getting involved in the Annual SHRM, HR Technology and local U.S. state HR conference (Illinois State SHRM and Louisiana State SHRM) as blogger and speaker, and began building relationships with many of the emerging HR & Recruitment technology vendors who attended. I started speaking at more events across North America, expanding my blogging contributions and advising on HR technology. I started working with technology vendors including PeopleFluent, Talemetry, Plum, Achievers, TalentWise and more, and immersed myself in the world of HR/Recruitment tech start-ups.
Today

I have started a new chapter in my career, and have started working with two fantastic organizations. The first is HireVue, supporting their growth in the Canadian market. As many of you know I attended their first-ever user conference, "Digital Disruption" in early June of this year and had the opportunity to connect with HireVue's incredible group of employees and their customers. I also gained a new appreciation for their technology and how good it really is, including where they are heading in the future. I can't say enough great things about them, and now I get to help them put "a dent" into the Canadian market.

The second organization is a Toronto-based start-up named Fitzii, who recently was acquired by Canadian recruiting icon, The Ian Martin Group. Fitzii has built an ingenious platform that blends a psychometric, qualifications, and culture-fit assessment with applicant tracking to provide mid-

sized organizations with a great technology solution to improve their recruitment process (and demote the influence of the resume along the way). I'll be helping Fitzii build their content marketing strategy, expand lead generation and build their brand within the marketplace. I was instantly wow'ed by this product after seeing it in action at the HRPA 2014 Annual Conference in Toronto. The simple and easy-to-use interface and intelligent software that can score and predict good hires are unique differentiators in the ATS space – actually, saying it's an ATS is a disservice – this is a Predictive ATS. Have a look at what Fitzii is all about in this video.
You will be seeing a lot from these two emerging HR tech companies in the near future. If you have any questions about HireVue and/or Fitzii please reach out and ask.
And of course I'll be busy running SocialHRCamp's in Toronto, Vancouver and San Francisco—new website, refreshed brand and new business and sponsorship model, leveraging the power and influence of content marketing on brand awareness, customer engagement and sales. I have a few little initiatives and ideas that I hope will come to fruition in the near future that again, will put a dent in the industry. Stay tuned for these details in the coming weeks and months.