Between June 1-3 I probably took more pictures and videos than I had ever before during a 3 day time span. Of course they were all for HireVue's first-ever user conference called "Digital Disruption" — #vueDD, and I probably took this many because I had such a phenomenal time. More importantly I was able to capture some really awesome moments, and that is what this post is all about. I present to you the "Jeff Top 10 Moments from #vueDD 2014".
#10 — "Cheerleading at 1am"
I'm not exactly sure what happened here but Jennifer Bilcze, Director of Field Recruiting for TMX Finance and a member of the HireVue team decided to show off their mad cheerleading skills rather late in the evening. Needless to say it was extremely entertaining!
#9 — "American Idol Tryouts"
We all know how great a job HireVue's Phil Rodriguez did in emceeing the "Disruptor Awards Dinner", but he also pleasantly surprised us with some pretty good vocals.
#8 — "Look Ma… I Can Dance"
This one came out of nowhere but one of the attendees, who happened to be sitting at one of the front tables jumped on stage and started showing some big-time moves for the crowd. It definitely was one of the highlights of the night.
#7 — "Jack Black Impersonation"
One of my favourite movies of all-time is "The School of Rock" with uber-funny actor Jack Black. The entertainment for the 2nd night featured our dueling pianists, which by the way, helped us raise over $7,000 for St. Jude Charity. I don't know about you but one of the pianists slightly resembled the head-banging and hair-flowing Jack Black.
#6 — "Marilyn Who?"
While our dueling pianists were trying to get someone from the crowd up on stage to dance, out of nowhere Andrea Oldmixon of Lumesse (one of HireVue's awesome partners) jumped on stage and stole the show.
#5 — "Breathtaking View… Need I Say More"
The Stein Eriksen Lodge in Park City, Utah was an absolutely fantastic venue for this event. Not only were the facilities top notch but the surrounding views were second to none. It reminded me a little bit of being home in British Columbia, specifically Whistler with the evergreen trees, snow capped mountains and never ending sight lines.
#4 — "The Backstreet Boys Make a Rare Appearance"
Yes you read this correctly. The Backstreet boys picked Digital Disruption to make their long awaited return to music. Under the leadership of HireVue's Phil Rodriguez they wowed the crowd with their slick moves and charming personalities.
#3 — "Moneyball"
I literally felt like a little kid in a candy store when I had the opportunity to see Major League Baseball's Oakland A's General Manager, Billy Beane speak about how he disrupted the traditional baseball business with his unconventional methods. Until that point in time the closest I had come to Beane was watching the movie "Moneyball", which starred Brad Pitt as Beane. His keynote fit the theme, "digital disruption" perfectly as he talked about how he beat the odds, faced numerous roadblocks and made some tough decisions. The nice little "I told you so" message came through loud and clear when the Oakland A's beat the New York Yankees just 1 day after Beane spoke. Check out the boxscore here. Keep in mind that the Yankees 2014 payroll sits at #2 in the Major Leagues at just under $204 million annually where the A's sit at #25 in the MLB at just over $83 million. Check it out here.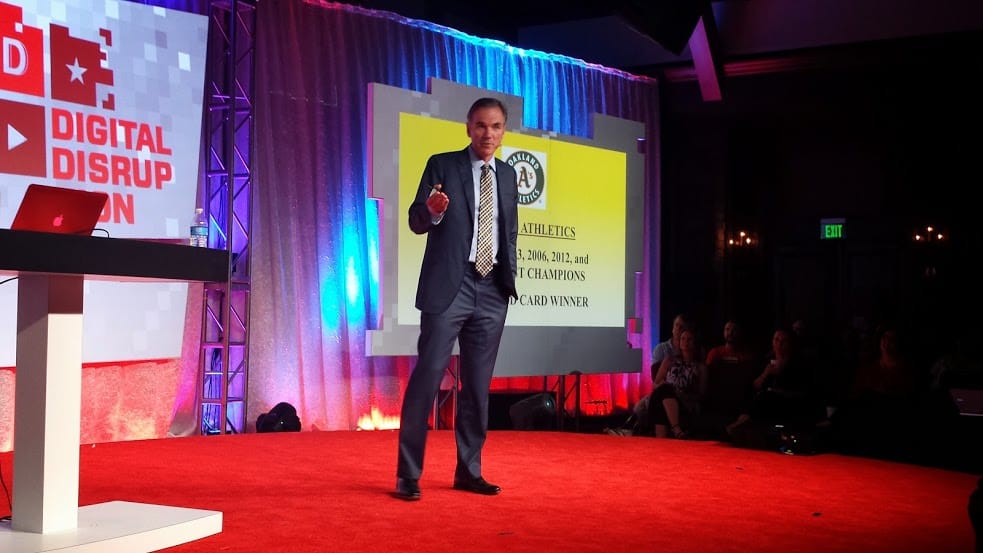 #2 — "Oscar-Worthy Performance"
On the last evening of the conference we had the "Disruptors Bash", which included a chance for us to show off our entertainment skills. I am not sure how this came about because it all happened so quickly but my long-time network contact Marie Pierre Huot of Mosaic showed some big-time acting skills. They literally came out of left-field, and I would even say shocked the other 4 of us who had no idea what was coming. Nice one M.P… I'll be sure to call the Academy and nominate you for a leading award.
Click on the image below to view the video!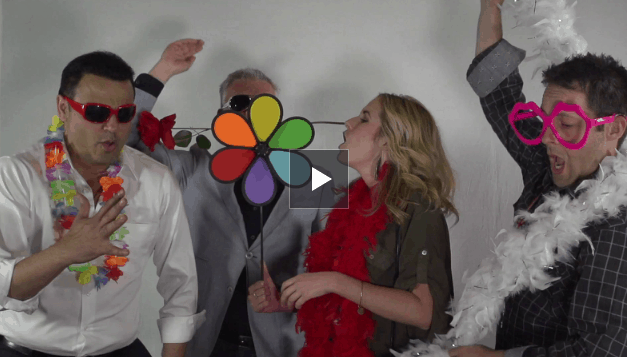 #1 — "Because HireVue Simply Rocks"
The organization of their first-ever user conference was second to none. Every single detail was thought through from attendee registration to airport pick-up to venue choice to sessions. Have a look at some of the Flickr photos from the event in the slideshow below.
[flickr-gallery user_id=socializehr width=400 height=400]